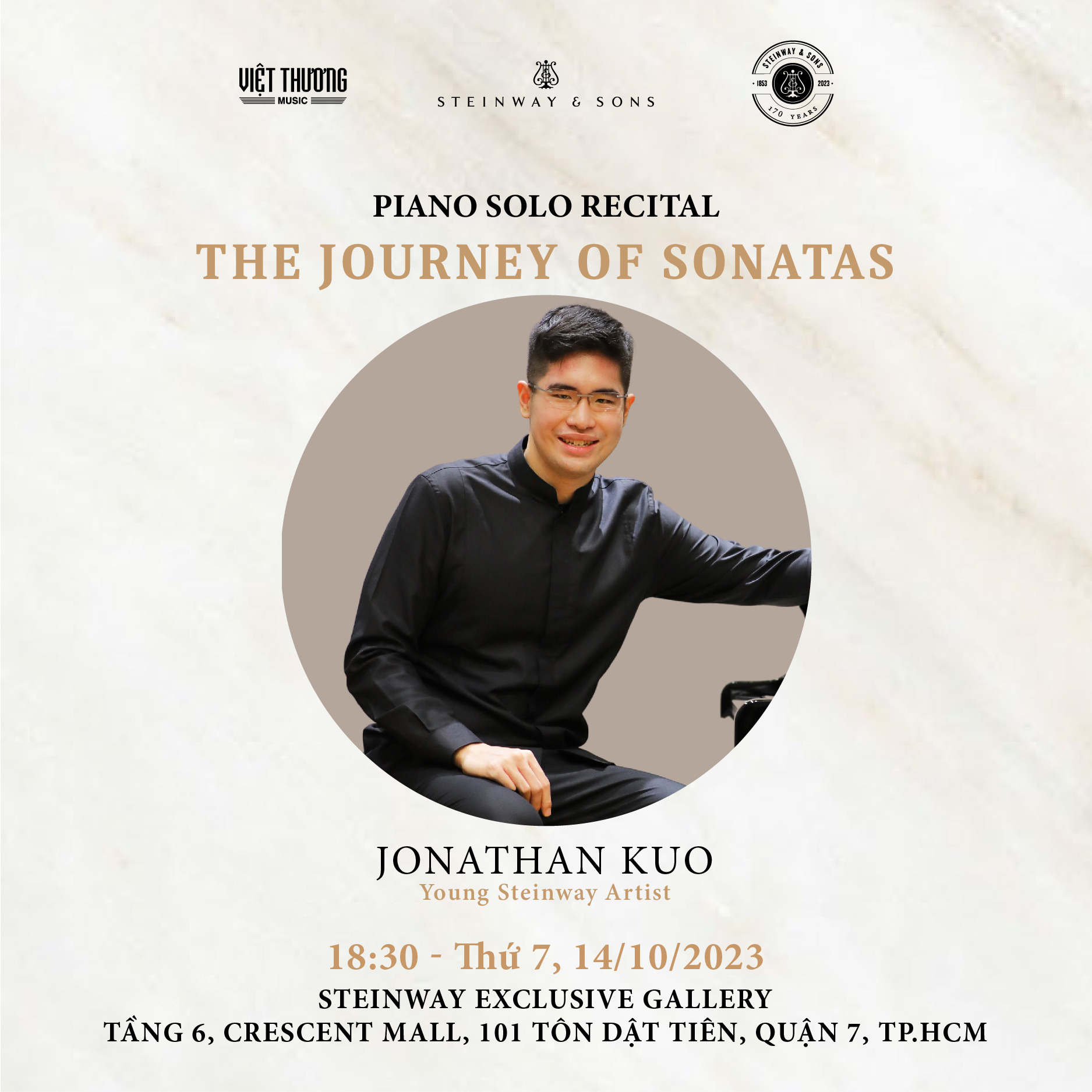 Steinway & Sons trân trọng giới thiệu buổi biểu diễn "The Journey Of Sonatas" do nghệ sĩ Young Steinway Artist - Jonathan Kuo đến từ Indonesia, lần đầu tiên biểu diễn tại Việt Nam trong khuôn khổ chuyến lưu diễn Đông Nam Á.
Hiện tại, chúng tôi nhận được sự quan tâm và lượt đăng ký tham dự vượt mức mong đợi, nhưng để đảm bảo chất lượng và khâu tổ chức chu đáo, Steinway & Sons Việt Thương xin phép ngừng nhận đăng ký tham dự buổi biểu diễn "The Journey Of Sonatas"
Steinway & Sons Việt Thương xin chân thành cảm ơn và hẹn gặp lại Quý khách hàng vào những chương trình tiếp theo.
Tác phẩm biểu diễn

Wolfgang Amadeus Mozart (1756 - 1791)
Sonata No. 3 in B-flat Major, KV 281
1. Allegro
2. Andante amoroso
3. Rondo: Allegro
Ludwig van Beethoven (1770 - 1827)
Sonata No. 31 in A-flat Major, Op. 110
1. Moderato cantabile molto espressivo
2. Allegro molto
Franz Liszt (1811 - 1886)
Two pieces from "Années de pèlerinage II"
1. Sonetto 123 del Petrarca
2. Après une lecture du Dante: Fantasia quasi Sonata
Young Steinway Artist Jonathan Kuo
Jonathan Kuo started piano lessons at the age of seven, under the tutelage of Iswargia Renardis Sudarno. Jonathan's passion for music has led him to many achievements on the national and international levels. Jonathan became a prize winner in the Indonesia Steinway Youth Piano Competition (2012), followed by being a prize winner in the 5th ASEAN International Chopin Piano Competition in Kuala Lumpur. Since then, he has won prizes in other competitions, including the Kawai Youth International Piano Competition in Wuhan, China (2013) the Indonesia Steinway Youth Piano Competition (2014) the Thailand 1st Chopin International Competition (2014), the Medan International Piano Competition (2015), the Indonesia Steinway Youth Piano Competition (2016 and 2018). In 2019, Jonathan participated in the 2019 Robert Schumann Competition for Young Artists in Düsseldorf and the 2019 Waring International Piano Competition in Palm Desert, California. Jonathan also made it to the semifinals of the 2019 e-Piano Junior Competition in Minnesota. Jonathan has also participated actively in many masterclasses under international-level pianists and pedagogues, including Alexander Kobrin (USA), Boris Petrushansky (Russia/ Italy), Jan Jiracek von Armin (Germany/Austria), Assaf Zohar (Israel), Boris Kraljevic (Montenegro/Singapore), Steven Spooner (USA), Manfred Aust (Germany), Stephen Hough (UK), among others. Since his early teens, Jonathan had already given many public performances of solo piano works as well as piano concertos, in Indonesia as well as neighboring countries. Jonathan became an Indonesian Young Steinway Artist in 2018. He regularly performs piano concertos by Mozart, Beethoven, Tchaikovsky, Rachmaninov and others. Some of his performance in 2022 are a live concerto performance in Jakarta on 26-March-2022, a performance of Poulenc's Concerto for Two Pianos with the Jakarta Sinfonietta, Beethoven's Emperor Concerto on 14-May-2022 with conductor Lien Boon Hua (Singapore) and the Jakarta Simfonia Orchestra, a private concert at Steinway Gallery Singapore on 22- Aug-2022 and a concert at UCSI Malaysia on 6-Oct-2022 playing Beethoven's Sonata in D Major, Op10. No 3, Ravel's Le tombeau de Couperin and Schubert's Sonata in A Minor, Op 42, D845. And the last performance in 2022 for Jonathan is with Bandung Philharmonic Orchestra on 19-No-2022.
This year, Jonathan is planned to have several performance in South East Asia's countries and also some performances with Jakarta Sinfonietta.
BẠN MUỐN THAM GIA CÁC CHƯƠNG TRÌNH TƯƠNG TỰ, XIN ĐỂ THÔNG TIN BÊN DƯỚI: